An Inn Built on Romance- Berry Manor Inn
-Article by: Norm Goldman
-Paintings by: Lily Azerad-Goldman

Cheryl Michaelsen and Mike LaPosta, owners of the Berry Manor Inn in Rockland Maine, could probably write a book about their experiences prior to their purchase of the inn.

Cheryl indicated to me that the thought of owning and running a B&B was never on her radar screen, and in fact, she confessed that Mike even hated staying in B&Bs unless "forced" to do so. However, it did not take much persuasion to convince both Cheryl and Mike that running a B&B is not so dreadful after all, and before long they were out exploring the landscape trying to find just the right fit.

After several weeks of intensive searching- including fourteen trips from their residence in Boston to Rockland, seven months of painful negotiations, convincing Mike's parents to sell their home in upstate New York and join them, and tossing their careers aside- an offer on a property was finally accepted. Unfortunately, two weeks before closing, and at the start of the all- important summer season, the deal fell through- no doubt causing a great deal of disappointment and anguish.

This unfortunate experience did not deter Cheryl and Mike from continuing to pursue their search, and within a short time another opportunity presented itself when an 1898 Victorian property termed "The Wow House" by Down East Magazine came on the market.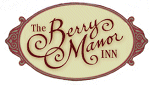 Interestingly, the house began its life built on a foundation of love and romance. It was once the stately home of one of Rockland's most prominent merchants, Charles H. Berry, who gifted it to his bride Georgie as a wedding present. For more than a century it was often the scene of some grand and gracious entertaining hosted by four generations of the Berry family.

Today, this twelve room Victorian romantic inn that forms part of the consortium of The The Historic Inns Of Rockland is the only Triple A - Four Diamond rated Historic Bed and Breakfast Inn from Portland through the Midcoast. It is also one of sixteen properties in all of the State of Maine to achieve this rating based on superior facilities, guest amenities and concierge services.

The property (both house and carriage house) is also listed on the National Registry and Cheryl informed me that their renovation project became the 7,372nd project in the entire nation to successfully meet the criteria set forth by the Department of the Interior for restoring and renovating a historic property. These proud owners certainly have good cause to be proud of their accomplishments.

Touring and staying in the Berry Manor was a sheer delight for my wife and I, and we could well understand why it has dazzled honeymooners and anniversary couples. Every aspect of the inn has been meticulously maintained and renovated. Each of the rooms have individual charm, exuding elegance, warmth and spaciousness- all essential ingredients required of inns aspiring to be classified as truly romantic.

But to many guests, Cheryl and Mike's personal touches- like afternoon tea along with fresh pies and other goodies or providing exceptional concierge service to their guests for whatever their romantic whims may be- plus plush bedding, whirlpool tubs, fireplaces in all rooms except one, high-end toiletries that include bath oils and rubber ducks, fluffy bathrobes, candles, wine glasses, all invariably sow that romantic magic necessary to experience the perfect getaway.

And if you cannot live without the Internet, there is even access to a computer for anyone wishing to catch up on his or her emails.

Cheryl will even come to your rescue should you have the unfortunate experience of coming down with a terrible cold and cough. Her array of different teas did wonders for me, and yes, trust me they worked!

As a further attestation to these innkeepers going the extra mile for their guests, Cheryl recounted to me a request from one of her guests, who was about to propose to his future bride. He asked Cheryl to order for him four dozen yellow roses and fifteen candles. When he and his girlfriend went out to dine, Cheryl and Mike decorated their room with flowers and candles, and they also placed a bottle of champagne with ice and glasses on the bed. A scrabble board was set up, wherein the words "will you marry me" were prominently displayed. The whirlpool tub was drawn and there were even candles floating in the bath!

Now that's what I call the whole enchilada!

However, when the guest requested that Cheryl and Mike be present to take a photograph

when he popped the question, they convinced him that it was probably best that it be "their" private moment without any outsiders present. A wise move!

It is often said that inns and B&Bs take on the personalities of their innkeeper/owners. If you are fortunate to be a guest of The Berry Manor, you will not be disappointed with the warm hospitality and personal service of Cheryl and Mike that permeates throughout their gorgeous home.

NEARBY ROMANTIC DINING

Having been dazzled and indulged more than once in our traveling life, my wife and I have become blasé when we are told how "great" is such and such a restaurant.

Even though we did in fact read and hear great things about one of Rockland's famous dining establishments, Primo, we still remained skeptical, until we had a chance to savor some of
MORE INFORMATION
their dishes.

For my wife and I the essence of a great restaurant is its creatively prepared food, a warm atmosphere, and faultless service. On all three counts, Primo passed the test admirably.

Award winning chef, Melissa Kelly and her fiancée, Price Kushner (who is the Baker/Pastry Chef ) offer diners some of the most innovative dishes in all of the State of Maine. It is little wonder that it was an Editors' Choice in the Yankee Magazine 2001 Travel Guide To New England.

The focus of the restaurant's creativity is using as much as possible local meat, fish and produce, and incorporating and Italian and French flare in their menu.

One caveat is that reservations at Primo can sometimes prove to be hard to come by and it is a good idea to reserve well in advance.