A Super-Status Resort Located in Ogunquit Maine- The Cliff House Resort & Spa
by Norm Goldman and watercolors by Lily Azerad-Goldman
On a cliff surrounded by the natural beauty of the rugged coastline of Ogunquit Maine sits a resort of dazzling natural beauty and cozy luxury.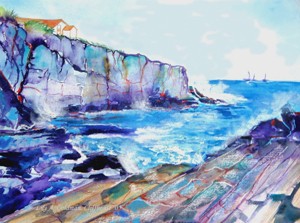 It is here where you will discover The Cliff House Resort & Spa that is being transformed from a mom and pop operation to a super-status resort designed to meet the demands and needs of both the leisure and business travelers of the twenty-first century. Resort owner, Kathryn M. Weare, indicated to me that like other generations of her family, who came to operate the inn, her career was more the result of happenstance than good planning. When her parents decided to retire, Kathryn had been a student of medieval history at Boston University. Both Kathryn and her sister had been offered the opportunity to buy out their parents, but only Kathryn decided to return home to the Cliff. Apparently, her sister did not want anything to do with the inn. This was in 1976, when the hotel had shrunk in size to accommodate her parent's energy and commitment. At the time, there were only 39 motel units, and older 12 room annex, and a single floor main building with a coffee shop and lounge. Unlike today, where the season extends for ten months, Kathryn's parents only operated the inn from Memorial Day to Columbus Weekend. When I asked Kathryn why she was eager to take over from her parents, she said that it was very important for her to continue the tradition of owning the Cliff House. She could not bear the thought of seeing it leave the family and would it probably wind up as another expensive subdivision on the Maine Coast.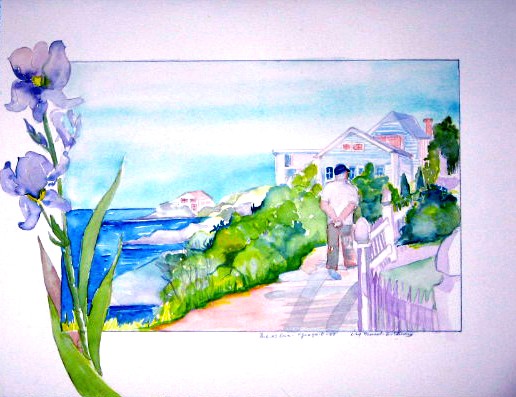 Kathryn is a fourth generation Weare family owner and innkeeper; the original owner was her great- grandmother Elsie Jane wife of Captain Theodore Weare, dating back one hundred and thirty years, when the inn was first opened as the Bald Head Cliff. In her own words, Kathryn stated that she saw the potential of the property as a unique boutique resort, which was close to Boston and boasts as having unparalleled ocean views from any location in New England. There is no doubt that I have to concur with all of her observations, particularly when you are able to open the door of your balcony, as we did, and savor the fresh salt air, while listening to the waves pounding against the rocks. All of which is extremely conducive to a good night's sleep! One of the most intricate tasks in upgrading resort facilities and bringing it into the twenty- first century, particularly when you're moving from a modest enterprise to a huge undertaking, is maintaining the old spirit. Very often hoteliers forget where they came from and as a result those original personal touches are compromised. I had to chuckle when I read a framed postcard hanging in our room, wherein a guest of the resort in 1930 wrote: "This is where we stayed tonight in grand lovely rooms and board we got a grand welcome everywhere we came." It is this kind of spirit and charm that Kathryn was determined to keep alive, while at the same time offer guests modern amenities that today's travelers expect from first class resorts. Kathryn's career has been focusing on reinventing the once and future Cliff House, constantly adding value to it, while at the same time maintaining the core reasons why guests return year after year. The verdict is in, and yes, this brilliant and visionary hotelier with the help of a great team of experienced advisors, consultants and personnel, whom Kathryn has known for many years, has succeeded in blending the old comfortable feel about the inn with modern facilities. Much has changed, as there is now a World Class Ocean Front Spa and Fitness Center, a 75-foot indoor lap pool, as well as an outdoor pool with a magnificent view of the Atlantic Ocean, exceptional dining, a state- of- the- art amphitheater, premier service, and flexible facilities geared to various celebrations including spectacular weddings. As for the inn's 194 guest rooms, relaxation takes precedence, and all feature picture windows and decks with views of the coast and ocean, combination tub/shower baths, hair dryers, coffeemakers, cable TV, heat and air conditioning, direct dial phones, wired high-speed internet access at $9.95 daily and modern furnishings. For romantic getaway seekers, there is certainly ample to seduce you, such as the spa romance or celebration packages, which feature Mumms Cordon Rouge Champagne, handcrafted chocolate truffles from the Harbor Candy Shop, and a single red rose in a bud case for your room. If you stay in the spa building, you can even have the option of an in room couples massage. I asked Kathryn if there had been any unusual requests from her guests, and she informed me that they have presented an engagement ring in every form of dessert you might imagine! However, they had declined a request from a groom, who wished to rappel down the cliff for his vows. The rocks beneath the resort provide an excellent backdrop for some spectacular wedding pictures and it is not uncommon for brides with their sneakers to trudge down to various venues on the jagged coast to be photographed. One other important mention is that the resort is sensitive to environment issues, and it implements what it preaches such as the use of a multitude of environmentally safe and sensitive products in its spa including a natural make up line and the use of indigenous sources like wild blueberry juniper, and wild rose in treatments. Additional Information The Cliff House Resort & Spa
Shore Road, PO Box 2274, Ogunquit, ME 03907.
Tel: 207-361-1000
Email: info@cliffhousemaine.com
Fax: 207-361-2122 Ogunquit Chamber of Commerce-All You Want To Know The resort serves as an excellent jumping off point for the many Ogunquit Activities. Some Great Places To Check Out Including Nearby Perkins Cove and Ogunquit Beach