The 1811 House's Manchester Village, Vermont
Former home of Abraham Lincoln's Granddaughter
-Article by: Norm Goldman
-Painting by: Lily Azerad-Goldman

Travelers familiar with Vermont have often associated the charming town of Manchester Center with iron mines, marble mills, and more recently, the brand name outlet shops. They also are aware that adjacent to Manchester Center, where the marble sidewalks begin and end, is Manchester Village, once popular as a summer retreat for the rich and famous with its elegant mansions and manicured lawns.

One such elegant dwelling, that is still very much alive and breathing, is the former residence of Abraham Lincoln's granddaughter, Mary Lincoln Isham, and her husband Charles Isham, known as the 1811 House.

As we stepped into the front door of the 1811 House the first thing we noticed was its magnificent splendor and one of the warmest welcomes we have ever experienced from innkeepers, Marnie and Bruce Duff and their daughter Cathy. (Cathy's husband, Jorge, is also part of the team that keeps this inn in tip top condition)

The 1811 House's history runs deep and it is included in the National Registry of Historic Places. We were informed by the Duffs that part of the property was probably built before the American Revolution, around 1770 by an early Manchester settler, Jeremiah French. Unfortunately, Jeremiah sided with the wrong folks, the British, during the time of the Revolution, and the new Republic of Vermont confiscated his property in 1777.

Eventually the property had been purchased by Jared Munson and for nearly a century it remained in the hands of the Munson family. After ownership passed from the Munson's hands, the property's ownership was turned over several times until 1905, when the granddaughter of Abraham Lincoln, Mary Lincoln Isham and her husband, Charles Isham, became the proud owners of this beautiful property.

Although Charles died in 1919, Mary continued to live in the house with her son Lincoln

In And Around The Inn:
Be Sure to Check Out the Hildene property on the southern edge of Manchester. Robert Todd Lincoln, Mary's father and Abraham Lincoln's son, built this stately home. While you are at it, visit the Southern Vermont Arts Center, Vermont's oldest cultural organization. You are sure to find something of interest from art galleries to concerts. Into skiing? You have to venture to the nearby Stratton and Bromley Mountain Resorts.

Isham until she died in 1939.

Imagine what it must have been like when Mary and Charles moved into the premises in the early 1900s? This led to many renovations on their part including the modernization of the property's plumbing.

The room we stayed in, the Henry & Ethel Robinson bedroom, contains a unique bathroom with a large bathtub placed inside a larger Dorset Marble shower room, and a showerhead imported from England in 1905. Apparently, Mary thought it unbecoming of a lady to take showers, and she had this bathtub installed.

One of the outstanding features of this room is that it has its own private balcony overlooking the magnificent rear gardens of the property, where I am told Mary Isham, who was a passionate gardener,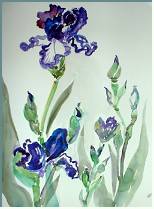 spent many hours. Unfortunately, there is not very much left of Mary's legacy other than two magnolias trees that are in bloom during the spring.

The room is named after the Robinsons, as they had purchased the property from Mary Isham's estate in 1938. They opened the house as an inn in May 1939, naming the property the 1811 House, believing that the house had been built in that year as a tavern and coaching house.

After the Robinson's ownership, the property once again encountered several owners, until the Duffs came along from Evanston, Illinois and purchased it from a Mr. and Mrs. Jack Hirst.

Each of the inn's thirteen bedrooms bears the name of a local legend, and everywhere you look you notice a world of refinement depicting Federal period styling. Precious craftsmanship is visible throughout, such as the inn's hundreds of window panes of authentic old glass, the glass topped end tables, the mantle clock in the living room, the many portrait paintings and other works of art, and the fine china and sterling silver that are in use during the Duff's amazing breakfasts, and the Chippendale furniture.

The inn even has an authentic cozy British Pub that Bruce with a twinkle in his eyes describes as more Scottish than British, as it specializes in more than 69 kinds of single malt Scotch Whiskies.

Bruce is an expert on malt Scotch Whiskies and be sure to prod him to tell you about them. The pub comes complete with dartboard, horse brasses, pewter mugs etc, and is open to the public on a limited basis. However, guests of the inn are free to enjoy the pub at any time.

Today, the Duffs' tender loving care is one of the principal reasons why this inn will surely inspire romance, where honeymoon couples and anniversary celebrants, or just romantics will find the 1811 House just the right prescription for a memorable getaway.
More Information
1811 House
PO Box 39, Manchester Village, Vermont
Tel: 800-423-1811
Email: info@1811house.com
Finding Them
¨¨¨¨¨¨¨¨¨¨
NEARBY ROMANTIC DINING
It may seem a trifle surprising, however Manchester and its surrounding towns is a gastronomic center.

A short drive from the 1811 House to the Town of Weston will take you to one of Vermont's oldest inns, the Frog's Leap Inn, where owners Kraig and Dorenna Hart operate a superb dining facility within their inn.

Dorenna's bubbly personality coupled with Kraig's people's skills sets the stage for a most unforgettable romantic dining experience, where you will savor the wonderful eclectic New England dishes prepared by Chef Dorenna.

This "happy go lucky" couple had been involved in the hospitality business for many years prior to their purchase of the Frog's Leap Inn in 1998
.
Dorenna is a graduate of the Culinary Institute of America, however she indicated to me:
"I follow my mother's concept of cooking- and she was the best chef I have ever met. My mother was twenty years ahead of Martha Stewart- her recipes made the society pages back when you weren't supposed to do your own catering."
After devouring some of Dorenna's magical dishes, we both had to conclude, Dorenna had definitely followed in her mother's footsteps. As she told us, " My philosophy is K.I.S.S.-Keep it simple sweetheart."
In fact, Kraig mentioned to me that when he first met Dorenna and she prepared her first meal for him, his reaction after tasting her dishes was: "I cannot leave this gal get away!"

There are two dining rooms, one consisting of 7 tables and the other 10 with a Rumford style fireplace. One caters to families with children, and the other to couples alone. The ambiance of the inn's restaurant perfectly reflects the motto of the Harts, who state in their brochure: "we are all in the world together- let's work together to make it nicer."
Vermont products are used as much as possible, featuring two local cheese makers, Taylor Farm Cheese and Woodcock Farm Cheese. The inn grows its own herbs, lettuce, vegetables, as well as some fruits as currants, blueberries, strawberries, gooseberries, raspberries and edible flowers. They also offer organic free-range chicken eggs at breakfast.

The restaurant is very reasonably priced, and the most popular items on the menu are the Black Angus Filet, the Vermont Honey Maple Chicken, the 8 oz Jamaican Jerk Flat Iron and the 8 oz Duck Breast. Other choices are the Tilapia with Cilantro Aioli and the Salmon with Soy Maple Glaze.
More Information
Frog's Leap Inn
7455 Route 100
Londonderry Vermont
Tel: 1-877-Frogsleap
Email: info@frogsleapinn.com
Finding Them
Another jewel of a restaurant is the Barrows House located about fifteen minutes from the 1811 House in Dorset Vermont. One important feature of this dining establishment is its close proximity to the Dorset Theater Festival.

During the summer months, when the theater is in operation, the Barrows House restaurant provides for an early dining sitting in order to permit their patrons to have a leisurely dinner just in time to pop over to the theater and take in a performance.

After we had the opportunity to dine at the Barrows House, both Lily and I admitted that it is a good thing that innkeepers Linda and Jim McGinnis had the good sense to engage Chef Ian Logan when he became available.

Chef Logan indicated to me that he considers himself to be a Classic French Chef focusing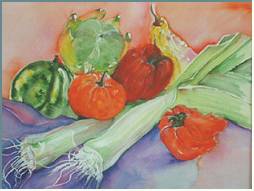 on Regional American Cuisine with Asian and Southwestern flair. He tries to use as much local produce as possible, and the inn's gardens are planned in such a way as to enhance his menu.

All of this is reflected in some of his signature dishes that will surely seduce you, such as: Veal Sinatra that comprises tender veal scallops, sautéed in butter, olive oil, Rosemary and White Wine, served over wilted baby spinach. Another choice is the baked boneless breast of chicken stuffed with Vermont chevre and asparagus served on a bed of wilted Swiss chard topped with Lemon Balm Jus. If you go for fish, the baked Chilean Sea Bass en papilotte with white wine, julienne of leeks, carrots and celery with citrus-chive butter should not be missed. His crab cakes rank among the finest in the area, and menus are changed twice a year.

What caught Lily's artistic eye were the murals of Vermont artist Natalee Everett portraying primitive historic Dorset that were in the Dorset Room, the inn's principal dining room.

Although the wine list may be limited to about thirty choices, there are nevertheless ample red and white wines to savor.

Beyond any doubt Chef Logan's richly flavored cuisine aptly reflects his classic French training that perhaps resembles the mouthwatering dishes of Southern France. This dining establishment offers superb fare in a romantic setting.
More Information
Barrows House
Dorset, Vermont
Tel: 800-639-1620
Finding Them
¨¨¨¨¨¨¨¨¨¨
---