Central Massachusetts' Unique Wedding Venues- Part I
-by Norm Goldman
-Paintings by Lily Azerad-Goldman
Central Massachusetts prides itself as being the "Heart of the Commonwealth," and although it may not be as up beat and sophisticated as Boston or Cape Cod, it nevertheless holds its own when it comes to providing couples with some of the most unusual wedding venues.
Key unique historical and cultural institutions in and around Worcester, Massachusetts's second largest city, have banded together and have opened their doors to wedding celebrations.
Indeed, these venues are quite extraordinary, when you consider their diversity in their representations of the arts, history, wildlife and horticulture.
A closer look at some of them will illustrate just how creative and imaginative a wedding can be.
The rolling hills of the town of Harvard, (not to be confused with Harvard University located in Cambridge) is home to the Fruitlands Museums.
With breathtaking panoramic views overlooking the Nashua River Valley and New Hampshire mountain ranges, this institution is proud of being the first Shaker museum in the United States.
The name "Fruitlands" dates back to over one hundred and fifty years ago, when Bronson Alcott, together with his family and a small following of believers, moved to the area, where the museum is situated, and decided to create a utopian transcendentalist commune.
It was their belief that they could survive by living off the fruits of the land, and abstain from eating or using any animal products or cotton produced by slaves.
Unfortunately, eight months later, the experiment ended in disaster and the group disbanded. It is interesting to note that one of the Alcott children was Louisa May Alcott, author of Little Women. Apparently, Louisa derived some of her writing inspirations while living at Fruitlands with her family.
In the early part of the 1900s, Clara Endicott Sears, a single woman of considerable means, discovered that her 400- acre "gentleman farm" located in Harvard had included the Alcott farmhouse.
Interested in history, art and philosophy, Sears restored the farmhouse and opened it to the public in 1914.
It was as a result of her research pertaining to the Alcotts, that she befriended the local Shakers, whose way of life had immensely impressed her.
When the Shaker community closed, they convinced her to move a building together with various manuscripts and furniture from their site to Fruitlands.
This eventually led to the opening of the first Shaker Museum in the United States.
In 1927 an arrowhead and other artifacts were discovered on the property, eventually leading to the creation of an Indian Museum, that today comprises a small comprehensive collection of Native American artifacts.
In addition, Sears built an art gallery to store and exhibit her collection of Hudson River School landscape paintings and nineteenth-century American vernacular portraits.
Today, Fruitlands rightfully claims to be one of the premier wedding ceremony and reception sites in Central Massachusetts. These are generally celebrated in the picturesque tearoom and in an outdoor tent, that in season is made up of an 18' x 28' dance floor, cathedral Window sidewalls, chandelier lighting, and wooden French doors at entryway.
The windows have breathtaking views of some of the mountain peaks of Massachusetts and New Hampshire.
Rental Information - http://www.fruitlands.org/
Worcester Art Museum
How wonderful it would be if Henri Mattise, El Greco, William Hogarth, Thomas Gainsborough, Vincent Van Gough, Paul Cézanne, Paul Gauguin, Thomas Cole, James Whistler, Claude Monet, and many more of the greatest masters could attend your wedding!
You are probably saying to yourself that I am living in fantasy- land!
Well, it may be impossible for these great artists to physically show up. However, how about if you and your guests could be surrounded with their masterpieces?
You could even experience a dramatic and regal grand entrance walking down a magnificent stone staircase leading to a museum's one hundred year old Renaissance Courtyard.
Incidentally, the largest and finest group of Antiochin mosaics is on display in the courtyard.
Where can all of this happen? At the Worcester Art Museum.
Perhaps you want something more intimate? You can arrange to celebrate your exchanging of vows in the intimacy of the Museum's Court Atrium or in the Museum's twelfth-century Romanesque Chapter House - one of the first medieval structures transported to the New World.
You can even celebrate your wedding in the Museum's café area combined with a romantically lit sculpture garden?
As for your guests, haven't you been to a wedding where you walk around with a cocktail in your hands, smiling, trying to make small talk, yet at the same time bored out of your mind?
Wouldn't it be more interesting and exciting if your guests could tour the many galleries of a museum, where they could admire some of the greatest works of art, such as James Peale's Still Life or perhaps Paul Gauguin's, The Brooding Woman.
That sure would be one way to break the ice, and keep the event memorable for years to come.
As for your photographs, you are permitted to use the Museum's café, the Renaissance Court and the Romanesque Chapter House.
The museum also provides a very imaginative catering service, however, they are open to alterative caterers as long as these are chosen from their recommended list.
Receptions range from 75 persons to as many as 300, while the museum can accommodate as many as 120 for dinner or as little as 22.
They are also fully licensed to provide all alcoholic and non-alcoholic beverages. For an additional fee, you can have wine service.
Rental Information - http://www.worcesterart.org/Services/room.html
EcoTarium
If you are looking for an off-the-beaten path and fun wedding experience, check out the EcoTarium located on sixty acres of sprawling woodland, wetland, and meadow, and only a mere two miles from downtown Worcester, Massachusetts. I am sure you will be pleasantly surprised!
This indoor-outdoor museum focuses on the exploration of the New England natural world and ecology, and is among the oldest natural history societies and museums in the United States.
Among the many EcoTarium activities is the caring for a number of diverse wildlife, including insects, reptiles, fish, rodents, birds and mammals.
It also concerns itself with the raising and releasing of endangered species, such as the Northern red-bellied cooter.
A walk though the grounds will bring you face to face with Kenda, the polar bear, two barred owls, a North American river otter, and two North American bald eagles.
If you prefer, you can ride around the grounds on the Explorer Express, a narrow-gauge railroad train.
The EcoTarium also houses in its one hundred seat Norton Observatory, a fourteen- inch Celestron telescope, and the most powerful telescope available for public use in central New England.
When I asked the museum's communications manager, Sally Anne Giedrys, to comment about various past weddings, here is what she had to say.
"The museum has plenty of 'fun' to offer, and many couples take advantage. Consider these recent weddings:
-A casual afternoon barbeque under the tent pavilion. Guests arrived in casual summer wear and kids in tow. They enjoyed exploring the museum and walking trails during the wedding.

(I may add, that weather permitting, guests can also experience a Tree Canopy Walkway suspended forty feet high in an oak and hickory forest. The walkway is the only one of its kind in all of New England)

-A couple, who exchanged their vows outdoors at the river otter exhibit, with the museum's award-winning meadow habitat and upper pond as a backdrop, then moved inside for dinner and dancing.

-An elegant fun-loving crowd that filled the museum for a New Year's Eve wedding. After an evening of dining and dancing the couple exchanged vows at midnight.

- An outdoor wedding in the autumn that took advantage of colorful foliage and scenic New England vistas.

-An elegant evening event with cocktails and hors d'oeuvres, dancing outdoors on the museum's North Courtyard.

-A sunset wedding under the tent pavilion on the museum's Sundial Plaza.

-A wedding that began with cocktails in the African Communities exhibit, dinner on the middle level amidst an

indoor New England forest and live turtles and birds, with dancing on the lower level near a stunning three-story glass wall."
As for photographs, these are often taken near the Vibram Walking Trail along a pond, where in season you can view butterflies, birds and other wildlife.
The EcoTarium can comfortably accommodate up to two hundred and fifty guests, and they can offer bar services. It is to be noted, however, that the museum is governed by the Commonwealth's General Laws. Any alcoholic beverages that you consume while on its grounds must be provided by and served by their staff.
As for the caterer, you are not restricted and you can engage your own.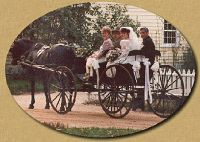 One of the most magical venues to celebrate a wedding is in Old Sturbridge Village located in Sturbridge, Massachusetts.
This outdoor living history museum is a fascinating replica of a typical New England town during the years 1790 to 1840, an important era between the Civil War and the Industrial Revolution.
It was particularly interesting, as the everyday lives of New Englanders were transformed by the rise of commerce, manufacturing, agricultural and transportation improvements, the pulls of emigration and urbanization, and the tides of educational, political, aesthetic, and social changes.
Walking through the village you will discover more than forty original buildings including homes, meeting houses, a district school, country store, lawyer's office, bank, printing office, carding mill, sawmill, gristmill, pottery, blacksmith shop, shoe shop and cooper shop, parsonage, knight store, tin shop, and the town pound.
You will also come in contact with many historically costumed individuals performing their daily tasks, working a farm, baking, and performing various mid-1800s duties.
Ceremonies generally take place in the meetinghouse one hour or more after the Village closes.
As the grounds of the Village are beautifully landscaped, and it is a Museum first and foremost, no outdoor ceremonies are permitted.
The reception can take place in one of the Village's taverns- the Bullard Tavern that has a capacity of roughly two hundred and located within the Village, or the new Tavern located at the museum's entrance, that has a higher capacity.
The latter is also very spacious and presents a most romantic ambiance with its working fireplace and early 19th century décor.
A horse-drawn surrey/sleigh can transport you and your guests to the meeting- house and the Tavern.
The surrey comes complete with a costumed driver, and is available prior to the ceremony for photographs. When the ceremony ends, the bride and groom can enjoy a private ride through the Village lasting ten to fifteen minutes.
You can well picture how beautiful it must be, when a horse-drawn carriage transports the bride and her party to the meeting- house, and when paths are lit by candle lanterns. All of this set against the backdrop of an authentic early 19th century early American village.
It surely is, as the museum states, "a step back in time for a wedding that will be truly timeless, unforgettable, historical- and all yours."
The Village provides its own catering service and bar service. Among the choices of entrées are: roast turkey breast, with sausage stuffing, cranberry chutney and giblet gravy, baked scrod, with caper berries, and lemon beurre blanc, Atlantic salmon baked in pastry with spinach cream, roast loin of pork, with apple cider gravy, grilled filer mignon, with brandy and wild mushroom glaze, and surf & turf of petit filet mignon served with two baked stuffed shrimp.
There is a very extensive choice of hors d'oeuvres and appetizers, as well as desserts.
Ample opportunities exist to take photographs. Some of the most favorite sites are: Salem Towne House Garden, the Bullard Tavern, and the Center Meeting House.
Oh yes, one remark in parting, when you celebrate your wedding at Old Sturbridge, you and your guests experience an 1830 American village for an entire evening!
In addition, you won't run into any other bridal party on the premises, nor will you have to be concerned that the DJ or orchestra in the next room will drown out your own music.
Now that's something to think about.
Rental Information - http://www.osv.org/
It is difficult to imagine a wedding taking place in Worcester's renovated historic train station that up until recently was in a horrible state of affairs, rundown and dilapidated.
For decades the station was extremely active, until the railroad industry began its decline.
In 1975, the owner abandoned the building, and for the next twenty years it gradually deteriorated. Its main occupants, until its re-opening in 2000, were the homeless and pigeons.
In 1995 the Worcester Redevelopment Authority acquired the building, and with the injection of $32 million by the city, it was renovated, restoring it to its former majestic splendor. This only transpired, after there was a public outcry, when the initial plans were to demolish this historic property.
The original station was built between 1909 and 1911, and was designed to resemble a Roman basilica with arched doorways and two ornate Baroque towers at either end.
Today's station was redesigned to be an "intermodal transportation center," with commuter and long-distance passenger rails combined with local and long distance bus service. The original features, however, were to be retained.
Prior to our station's visit, my wife and I could not fathom the thought of why anyone would want to tie the knot in an ornate renovated train station.
However, when we had the pleasure of dining in the newly opened "Union Station-The Restaurant," located in the station, any doubts we may have entertained were quickly dispelled.
Immediately, we were in awe at the beauty of the Grand Hall with its high large curved ceilings, the stained glass windows built to replicate the patterns and colors of the original ones, interior marble columns, wood trim, and the magnificent interior door and vaulting.
It is little wonder that it is often called Worcester's most beautiful building, and it was even awarded a design award from Preservation Worcester and the Central Massachusetts chapter of the American Institute of Architects.
The restaurant, modeled after the original dining establishment that was located in the train station over a century ago, provides excellent catering services for any event staged in the station.
Having had the good fortune of tasting some of the restaurant's menu, we can comfortably state you will be in the hands of experts, if you decide to engage them as caterers.
As for renting the station, it should be noted that it is quite popular, and essentially you rent the premises from the City of Worcester.
Rental Information
Ellen M. Ganley: Tel: 508-799-1175
Email: ganley@ci.worcester.ma.us.
If you prefer a less "daring wedding" and would rather tie the knot overlooking a beautiful romantic lake, check out the Sturbridge Host Hotel & Conference Center on Cedar Lake.
Sturbridge is a charming town that has welcomed visitors since the 18th century, and is within easy reach of Boston, Providence, Albany, and Hartford.
Its rolling hills and abundant hiking trails, covered bridges, historic taverns and events throughout the year make it an ideal venue to pledge your love.
The Sturbridge Host Hotel offers several options:
- For a party of not more than 150 persons, you can choose the three season lakeside tent overlooking Cedar Lake:

- For a larger celebration you can rent the grand ballroom with high ceilings, dramatic chandeliers and sconces, suitable for a wedding of 135 to 350 people:

- If the wedding is an intimate affair with no more than 100 people, the commons, is the ideal site or the lakeside grove & gazebo, that includes white garden chairs with center isle, rain space in case of inclement weather:

- If the season is not conducive to an outdoor happening, how about the climate controlled indoor garden terrace courtyard with lush surroundings.
Be sure to inquire about the hotel's value added packages, such as special overnight group room rates, and discounts for your bridal shower, rehearsal dinner or post wedding brunch.
Guests staying at the hotel can enjoy paddle- boats, miniature golf, fitness center, racquetball courts, indoor pool, whirlpool, boating, beach, and three restaurants. An added plus is that the hotel is only minutes away from Old Sturbridge Village, an attraction that is very appealing and you won't want to miss.
If you wish to have one-stop wedding planning, the hotel's wedding coordinator can put you in touch with the many different services available in the area. They are "old hats at the game" and they know their property inside out. They would be delighted to provide you with valuable information from food to photos, as well as spending as much time as need to explain their several menu packages.
As for those sought after "Kodak Moments", the beautiful lake and grounds of the hotel provide the perfect settings.
Rental Information - http://www.sturbridgehosthotel.com
Other Unique Venues You May Want to Consider
---