The LimeRock Inn, Rockland, Maine - A Magical Queen Anne Victorian Inn

By Norman Goldman
Artwork by Lily Goldman

There surely is something enviable about someone who leaves behind a vocation in organizational development consulting to become an innkeeper.

This is precisely what happened when Pam Maus purchased the first B&B in Rockland Maine's historic district, the LimeRock Inn.
When I inquired what made her take up inn keeping, Pam's reaction was that it is the perfect profession for her, as it soaks up every aspect of her background.

After completing her graduate degree at Northeastern University in Boston, Pam joined the Polaroid Corporation where she was the Manager of Career and Performance Management for eleven years.

It was after departing from Polaroid that Pam attended the New York Institute of Culinary Education and graduated with honors. After working at Formaggio Kitchen in Cambridge (MA), and interning with Lydia Shire at Boston's Biba, she was off to France enjoying a stint as a private chef in St. Paul de Vence.

Along the way she also owned her own catering company, eventually returning, however, to the world of organizational development consulting before venturing into her new career as an innkeeper.

Drawing upon all of her diverse skills, Pam easily made the conversion from businesswoman to innkeeper. Without question, she has done an admirable job of creating a perfect romantic environment where guests can loosen up and enjoy a break from their hectic lives.

In fact, you could not hope to find a more endearing place and a gracious innkeeper to spend one or more nights than at the LimeRock Inn.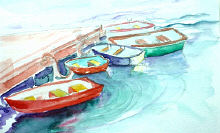 Nearby Ocean Sights

In addition, Pam's culinary skills have come in quite handy and are clearly manifested when you savor one of her creative breakfasts. I use the word "creative" purposely, as when my wife and I signaled to her that we would like to have a hot cereal for breakfast, Pam looked at us slightly surprised. Evidently, we seemed to have thrown her a curve, as our request was not one she ordinarily receives.

Guests more often than not are very anxious to savor her truffled omelettes with a ragout of wild mushrooms, cheddar pancakes topped with caramelized apples, and blueberry French toast served with blueberry and lemon sauces.

Nonetheless, to our pleasurable surprise, Pam with her inventive chef's skills was able to fix up a hot cereal in the form of a soufflé. Something we certainly found unequalled!

And we may have made a convert out of her. She remarked to us that she seldom eats hot cereal in the morning. Following our advice, she tasted some the morning she prepared ours, and even liked it!

Being somewhat curious, I always want to know what prompts an innkeeper in selecting one inn over another.

When I posed the query to Pam, she pointed out to me that when she looked at a picture of the LimeRock Inn she knew it was the right property for her. More than anything she wanted a Queen Anne Victorian with a wrap-around porch. As an added incentive, the City of Rockland was instantly an attraction for her, due to the fact that it is an emerging destination with a very proactive spirit and cultural life. It is a place she felt where a newcomer gets to play a role in molding the future. I may add that the town with all of its fine restaurants and cultural venues has a great deal going for it.

What I found most delightful about Pam was her originality, and this is reflected in the eclectic style of the inn's décor. In fact, Pam describes her style as "gracious whimsy," a description one of her guests passed onto her.

Throughout the inn we noticed the rooms were decorated with exquisite fabrics and furniture, creating an ideal setting to escape from the stresses of everyday life.

One room named the Turret Room even has a canopied bed sitting in the house's Turret. The Grand Manan's oversize four-poster bed sits in a bowed window with stained glass window that sends rainbows throughout the room during the morning light.

We had the opportunity to stay in the Island Cottage, reminding us of Provence, France with its abundance of light, and its décor in blues, yellows and whites.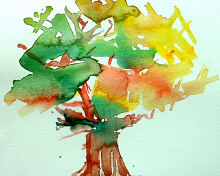 Garden View

Most enjoyable was being able to sit out on its private deck overlooking the inn's beautiful gardens, where we were informed that weddings are celebrated. This was the ideal place for Lily to do her sketching and painting.

One final remark - my wife Lily was quite delighted to discover that Katie Couric recently stayed at the Inn. Lily had just completed reviewing one of Katie's books, The Blue Ribbon Day.

Romantic Dining

Amalfi Mediterranean Restaurant is one of those small town restaurants you hope to find and rarely do. Barely a few blocks from the LimeRock Inn on Main Street, this dining establishment differentiates itself from others with its superb Paella, oysters, various fish and meat dishes, and delicious créme brulée. Believe me when I state it was luscious, we have tried this dessert all over the globe, and this restaurant's stands out and put us in caramel paradise!

There is nothing rigid about the ambiance - just an environment worthy of relishing first-class food. Perhaps a reflection of the uncomplicated life the inhabitants of Maine bask in.

Chef David Cooke enjoys bringing to the table the tone of the Mediterranean with local indigenous products, and all of his dishes are cared for with tender loving attention and resourcefulness.

Additional Information

LimeRock Inn
96 LimeRock Street
Rockland, Maine
Tel: 1-800-546-3762

Amalfi Mediterranean Restaurant
421 Main Street
Rockland, Maine
Tel: 207-596-0012

Rockland-Thomaston Area Chamber Of Commerce