Romance on Penobscot Bay with a Stay in an Historic Inn
Rockland, Maine
By Norman Goldman
Artwork by Lily Goldman
What can be more romantic than experiencing a few days aboard a schooner on Maine's largest coastal waterway, Penobscot Bay, where you can experience some of the most rugged and beautiful scenery in the state. Making the adventure even more mesmerizing and romantic is that you can combine the sailing experience with a stay at an inn, the Captain Lindsey House, whose inn-keepers, Captains Ken and Ellen Barnes, were once owners of The Schooner Stephen Taber until they sold it to their son Noah about two years ago. Since 1871, this schooner has been the oldest documented sailing vessel in continuous service in the USA. No small feat!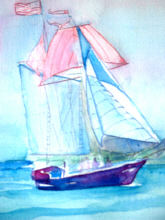 Sailboat

Ken and Ellen Barnes are a fascinating couple who began their working lives as university professors - Ken taught design and theatre history and Ellen taught acting, directing and literary criticism. In 1979, they moved to Maine from Greensboro, North Carolina, after deciding they wanted to own a windjammer. Fortunately for them, they were in the right place at the right time when the historic schooner Stephen Taber was put on the market and without hesitating they grabbed the opportunity to embark on their new careers. A few years later their daughter was keen on opening a restaurant in Rockland and this led to their purchase of an inn that had been one of Rockland, Maine's first lodging establishments.

It was Captain George Lindsey who had originally built the house in 1835, and in 1837, the property was converted into an inn, complete with a livery stable and a popular tavern. It continued to operate as an inn until the early 1900s when the local water company purchased it and turned it into their headquarters. The Barnes purchased the building from the water company and they almost completely gutted it while at the same time managing to save a few artifacts.

As Ellen and Ken mentioned to me, the restaurant was fashioned in the large seven bay garages. The adjacent property, where the company's offices had previously been situated, became the rebirth of the Captain Lindsey House.

The Barnes think of their nine-room Captain Lindsey House, that incidentally is part of the Historic Inns Of Rockland Maine, as something akin to a small European boutique hotel - and that it is, with one very notable feature-its maritime ambiance. The unique eclectic furnishings scattered throughout the inn represent the many collectibles Ellen and Ken were fortunate in accumulating as a result of their many years of world travel coupled with their years of theatre. Noteworthy is that most the items are authentic, such as the oriental rugs and the custom crafted furniture, and as Ellen stated, there are no lace curtains.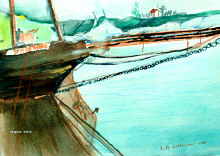 Schooner

We were also impressed with Ken and his family's artistic talents, particularly of the sketches of schooners and life at sea. But some believe that what makes this inn stand out is the personal touches - like the complimentary sherry and port served with different kinds of nuts each afternoon in the large and elegant parlor that is warmed by a fireplace when the weather becomes nippy. There is also the well-stocked library where you can unwind and enjoy reading one of the many National Geographic magazines dating back twenty years, as well as many other interesting books.

The spirit of schooners or yachts can be felt within the dining room, with its beautiful wood paneling and tufted, built-in benches and where breakfast is served. Speaking of breakfast, this is served buffet-style every morning from 8:00-10:00 a.m. Trust me when I say there is ample to devour such as homemade granola and cereals, bagels and English muffins, locally baked breads, muffins, yogurt, eggs, dried and fresh fruits and more. You will even find a Belgian waffle station that included the whipped cream, fresh fruits and syrup toppings. Incidentally, Ellen is such a great chef that she published her own cookbook, A Taste of the Taber, Classic Maine Coastal Cooking. My wife and I were amazed at the number of creative recipes that were included in the book.

All rooms come with private baths, and all are equipped with hair dryers, fine toiletries, Egyptian cotton towels, fluffy bathrobes, air conditioning, in-room telephones with data ports, and cleverly concealed televisions in cabinets and armoires.

Romantic Dining

A great nearby place to enjoy a romantic dinner and at the same time enjoy watching a superb glass blower is The Prism Glass Gallery Café.

Glass artist Patti Kissinger has been in the business of stained and blown glass for 23 years. Her studio, Prismglass Studio & Gallery, is adjacent to the restaurant and was recently voted as one of the top galleries in the USA by Niche Magazine. Her business partner Lisa Sojka operates the restaurant.

The restaurant's menu offers a huge choice where dinners can indulge themselves in such starters as Lobster Velvet, 5 Spice Quail, Grilled Romance and follow this up with the main course choices as Swordfish Pomadoro, Sea Scallops & Sticky Peas, Salt & Vinegar Chicken, Pork & Noodles, and Vegetarian Risotto. Leave some room for the dessert or as they term it on the menu, "sweet endings."

Additional Information

Captain Lindsey House
5 Lindsey St. Rockland, Maine
Tel: 800-523-2145
Email: Lindsey@midcoast.com

Prism Glass Studio and Gallery
297 Commercial St
Rockland, Maine
Tel: 207-230-0061

For a reasonably priced lunch, you may want to try Grapes Restaurant, located at 227 Park Street with a view of the bay. There you will find innovative and creative dishes with a choice of seafood, pasta, steak, and even ribs.