Romantic Island Hopping Off The Coast Of Maine

By Norman Goldman
Artwork by Lily Goldman

If you ever thought that by seeing Maine from land alone you have seen it all, you better think again. In fact, it would seem a shame if you did not check out a few of the three thousand islands that dot the coastline of this picturesque state.

These islands are worlds onto themselves, each unique in their own pristine wilderness, providing excellent possibilities to sneak away for a romantic day getaway. You can indulge in hiking, fishing, hiking, biking, nature walking or just lazy around the many parks and beaches, all in beautiful surroundings and within a friendly, relaxing atmosphere - truly what memories of romantic retreats are made of!

An ideal jumping off point to enjoy and experience some of these islands is from Rockland, Maine, where if your time is limited to only a few days, you can visit some of them by ferry or private charter.

So pack a lunch with a bottle of wine, swim-suits, cameras, paint-brushes, kayaks, bicycles (rent some in Rockland!) and you are off. Here are some suggested, "romantic day hops." Enjoy!

Matinicus Island means "grassy islands" or "the place of wild turkeys," according to the language of the Native Americans. The island is located about 20 miles south of Rockland and has been described as the most remote of the inhabited year round islands.

Some visitors have described the island as having a distinct sense of isolation. I guess with a population of less than 100, there would be plenty of space, peace and quiet.
It is two-miles in length and one-mile in width, and crossing time from Rockland is 2 hours, 15 minutes.

What are particularly attractive features of this island are its usually deserted sandy and pebble beaches, as well as the fact that it is one of the few Maine islands that is home to exclusively working vessels. Most enjoyable is watching the fishermen as they take off to the sea, or hiking through the many paths and trails and exploring the flora and fauna. There are many areas on the island that have been designated as bird sanctuaries, and if you get lucky you may spot a rare species. You can even visit the town's farmer's market, when it is open.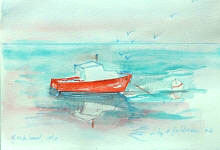 Hop On!

Practically speaking, it is wise to engage the services of a private charter to reach this island if you are planning to spend the day, although there is a ferry service that can provide you with a little over 2 hour trip to the island. However, it returns to Rockland within one hour of its arrival at Matinicus.

George Tarkleson will take you out and back on his private passenger ferry on the same day. George indicated to me that he offers 7-day service, and 1-3 trips a day in July and August. May, June, September and October service is provided 3-4 days a week.

He is licensed for 6 passengers plus his crew. Bicycles and kayaks are permitted at an extra small charge. As there are no bicycle rental shops on the island, it is best you rent a bicycle or kayak in Rockland. You can also take a boat ride or kayak to near Criehaven Island and Matinicus Rock Island to watch the puffins.

Sometimes called the Fox Islands, Vinalhaven and North Haven Islands are separated by a narrow passage. Vinalhaven can easily be reached by ferry, and it is takes a little over one hour via ferry from Rockland.

As the town is very compact, it is not difficult to meander around the designated walking paths or the two parks and the nature conservancy area.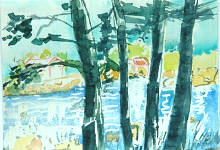 Beautiful Wilderness

If you bring your bicycles, you should not have too much difficulty maneuvering around the hilly roads, although at times you have to be very alert, as there is a significant increase in vehicular traffic during the summer months.

At one time this island was home to a prosperous granite industry, and in fact many a famous building in New York and Washington D.C. were built with the granite shipped from the island. Today, the abandoned quarries are spring-fed swimming and fishing holes, and are very popular with the locals.

North Haven is likewise a short jaunt via ferry from Rockland, and if you are into cycling, its 10-mile loop is a great way to spend a day.
The island has been known as being a summer retreat for some of the most wealthiest and influential families in the USA.


Lodging

An ideal place to hang your hat for the night, and rest your weary bones after a day of island hopping, is at the Old Granite Inn. This inn is the only one in town overlooking the Rockland Harbor, and is located directly across the ferry depot to Vinalhaven and North Haven.
Owners Regan and John Cary are semi-retired and about seven years ago they purchased the oldest granite building left in Rockland as their semi-retirement project. Ragan indicated to me that owning the inn has been "a blast." She further confided in me that John may have been at first skeptical, however he has evolved into a genial suave innkeeper. Having met John, I can certainly attest to the veracity of Ragan's perception of her husband.

This nine-guest room inn focuses on being low key, although there is a fantastic art collection displayed throughout the various rooms. Apparently, Ragan and John for many years have collected art from shows and galleries that they attended throughout New York and New England.

In addition, Ragan's green thumb has earned her the reputation of having some of the most beautiful gardens in Rockland.

A stay at the inn has the added feature, particularly if you are into island hopping, of being able to store your kayaks and bicycles, while you are out dining or checking out the great cultural scene in Rockland or other areas. Incidentally, Ragan and John are patrons of the arts and they are very well versed in the many wonderful itineraries you can experience pertaining to art galleries, lighthouses and museums.

A Great Place To Enjoy An Aperitif

An inviting place to enjoy an evening aperitif after a day of island hopping is a newly opened dining establishment, In Good Company. Located on Main Street, you can enjoy a glass of wine or a beer with cheese, crepes, spiced nuts, and many other goodies. It is the ideal place to greet old acquaintances or newly met friends.

Additional Information

Old Granite Inn
546 Main Street
Rockland, Maine
Tel: 800-386-9036
Email

Rockland-Thomaston Area Chamber Of Commerce