The Waterford Inne-Waterford Maine

Article: Norm Goldman
Paintings: Lily Azerad-Goldman

If you enjoy tranquility and seclusion, you are sure to love The Waterford Inne, as all pressure to do something or go somewhere takes a backseat to being together and just enjoying mother- nature. It is a super place to unwind and revitalize and be in awe as you gaze at the stunning landscapes all around. Barbara Vanderzanden and her mother Rosalie have owned this beautiful inn since 1978 and as Barbara indicated to me, it is hard to remember life before innkeeping! Both Barbara and Rosalie come from New Jersey where they were former school teachers. One day they decided that they had enough of their daily routines and a change was needed. After spending four days in Nantucket and Cape Cod, they realized that there was another way of life than the one they had been experiencing and as Barbara recounted to me, opening a country inn would provide them with an opportunity to live in one of their favorite states, Maine.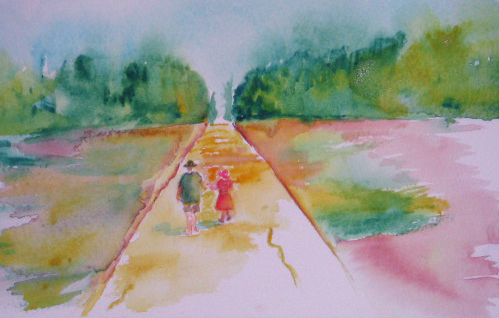 As I am a native of the Province of Québec, I was intrigued to learn that Waterford's history can be traced to 1690. Apparently, there had been an attempt to capture Lower Canada, as Québec was called at the time; however the attempt proved to be a huge failure. Nonetheless, the survivors or their descendants requested payment for their troubles. As a result, eight townships known as Canada townships or Canada Grants were set aside for these individuals. Waterford was among the eight, however, in most instances, the original proprietors of these lands were not settlers, as they had sold their lots for fifty cents an acre to others who eventually settled the area. The earliest days of settlement in Waterford date back to the mid 1775 when a gutsy twenty-three year old David McWain arrived with his dog from Bolton, Ma. After McWain purchased his lot for forty dollars, he built a log cabin in the middle of the Town of Waterford. It is said that he was probably the only settler between Bridgton Maine and Canada until 1784 when some more fearless souls found their way to the area. The town was incorporated in 1797 and is built on a level plain called the Flat of Keoka Lake at the foot of Mount Tire'm. The farm property that presently houses The Waterford Inne had been owned by the well-known Chadbourne family from 1826 to1978 when the Vanderzandens purchased the property and converted it to an inn. Col.James Chadbourne acquired the property in 1826 from Bathsheba Farrar widow and executrix of Charles Farrar. When it was purchased by Col. Chadbourne there was no indication in the title deeds that the land contained buildings. Barbara informed me that the original Chadbourne house was a one and a half story cape and was enlarged to a two story structure when the roof was raised in 1905. The barn adjacent to the inn was built in 1905. For the first fifty years of their ownership the Chadbourne family operated a dairy farm. Subsequently the family gave up farming and ventured into the lumber business. Today, Chadbourne lumber enterprises is still very much a presence in Bethel. The inn's surroundings are a naturalist's and artist's paradise-a gem of a place, as you notice as you meander along the country lanes bounded by wild and untouched places, which unfortunately there are few left on our planet. Instantaneously you are transported out of your routine-controlled lives and as Barbara pointed out to me, you are taken back to the country, and maybe that's where you really belong.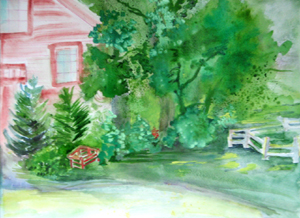 Barbara prefers to describe her establishment as an inn rather than a B&B, since she offers an optional evening meal to her guests as well as to outsiders. The menu, unlike most dining establishments, does not offer choices because Barbara believes in preparing one fine four-course meal that changes each evening keeping in mind her guests special dietary needs and/or food preferences. We can attest to her first-rate culinary skill and it is little wonder that she has built up a faithful following that always return to delight in her meals served on fine china and serving pieces.

Architecturally speaking the inn is colonial/traditional and it is dramatically set on twenty-five acres of fields and woods ringed by the stunning Oxford Hills and a farm pond. The elegant six rooms all characterize separate themes and are placed oriented such as the Irish Room with its shamrock wallpaper, the Nantucket room complete with a harpoon depicting the area's whaling past, the Safari room adorned with some of Barbara's enlarged photos. When we visited Barbara was working on a Maine camp room with a rustic retreat ambience. The Vanderzandens depend very little on outside help and Barbara is generally up at the crack of dawn to attend to the maintenance of the inn that keeps her going all day. Seeing that Barbara and her mother have traveled all over the world, they have brought back interesting objects that can be found in every corner such as a Thanka from Nepal, a painted ostrich egg from South Africa, a rug from Portugal and many other novelties. A stroll into the inn's quaint library with its many travel guides and books give you an indication of just how far and wide the Vanderzandens have traveled. As a romantic getaway where life is simple indeed, The Waterford Inne can't be beat. During the winter months Barbara can arrange for a horse-drawn sleigh ride or she can recommend back woods areas for snowshoeing or Alpine skiing in nearby Sunday River or Mt. Abram, eventually returning to the inn to enjoy Barbara's fine cuisine while ending the evening relaxing in front of a wood-burning fireplace sipping a glass of wine. It should be noted that the inn does not have permission to sell wine however, guests can bring their own. Autumn brings with it the magnificence of the foliage as you meander along the many back roads. During the summer months you can enjoy intimate beaches and hikes as nearby as Waterford itself. In fact, Barbara indicated that not far from the inn is a small hill with a great view and picnic spot where one of her guests proposed to his wife-to-be. While we visited in summer, we were able to experience the delightful front porch during the evening hours while listening to the sounds of nature. A short distance away from the inn are the Tir'em and Hawk Mountains that are owned by the Town of Waterford offer fantastic views panoramic views of historic Waterford Flat and the surrounding areas including Long Lake, Bear Pond and the White Mountains. In the end it was the many small things that made us feel special-the décor of our room with its veranda, the flowers that adorned our dining table, the delicious breakfast, the books and magazines, and above all Barbara's warm hospitality and vast knowledge of the surroundings that made our short stay a delight. Additional Information The Waterford Inne
258 Chadbourne Road
Waterford, Maine 04088
Tel: 207-583-4037